Carnival in Italian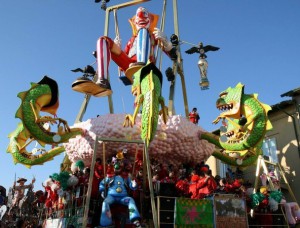 Viareggio - a city that has always taught to smile and enjoy life.
What do you like Italian? Wine, pizza and spaghetti, shoes and clothes, movies and sunny beaches? And I'm sure you'll love the Italian Carnival. How I fell in love.
Everyone knows that Italians are active, impulsive and cheerful people. But best of all can understand the peculiarities of the people visiting him on holiday. Quite by accident I was in the days of Carnival in Viareggio - a resort town on the Tyrrhenian Sea.
Sunny day in February. Some incredible feeling positive and emotional presentation to. The central street of Viareggio, like a cup of sweet drink, gradually filled with intoxicated delight local residents. They flocked from all sides ... in costume animals. In the eyes of ryabelo "tailed", "striped" and "Leopard" guys. And try on the clothing of animals, both children and adults. It can be seen suits have many children are not quite new, it is clear that they were passed from generation to generation. I admired how honored traditions of the holiday. Carnival in Viareggio, there are more than 135 years, and an atmosphere of excitement and fun it is not inferior to the Venetian. The only difference is that in Venice I saw a gorgeous period costumes, but in Viareggio longer meet the family, dressed in the coloring of animals, as it does not look ridiculous. And still very much to see clowns and young men dressed in skirts and stockings. The main thing that the whole image looks funny and unusual
But the main show started in the late afternoon, when the main avenue lined with palm trees began to emigrate to the platforms huge puppets made of papier-mache height of about 30 m and a width of 15 meters. This is not just a doll - it's entire site, on which the show - the guys from the support group, dressed in the style of his puppets, danced, sang and entertained the crowd in every way. All this swirled design, light and modern voiced Italian hits.
I was always attracted to carnivals, it is a holiday-allegory. In Venice, wearing the mask, people show others seeing themselves in this world, pose their own puzzles and try to preserve the anonymity of their actions.
In Viareggio things differently, people's faces are open, and the meaning of the message to others embodied in the form of huge puppets and is dedicated to some issue or event. Here love with irony present in the form of puppet politicians, favorite fairytale characters and just famous people.
I am very glad that visited the carnival and a positive charge, which emit the Italians. Where else can you sit in a cafe for a cup of coffee surrounded by "tiger" and "clown", to see riding a bike "cat" or jumps off the scooter "bear"? And looking out the window jeep shaggy "zebra", which baldela the music r'n'b? Only at the carnival in Viareggio!
And best of all - that one day I had not filming the comedy film, but on a real holiday. Italian holiday happiness!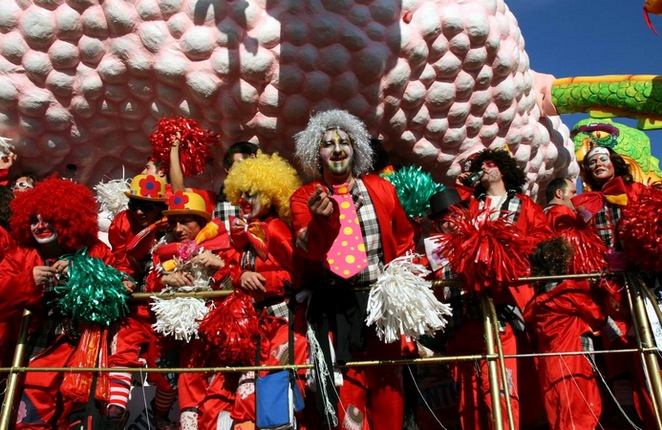 0000-00-00