About Company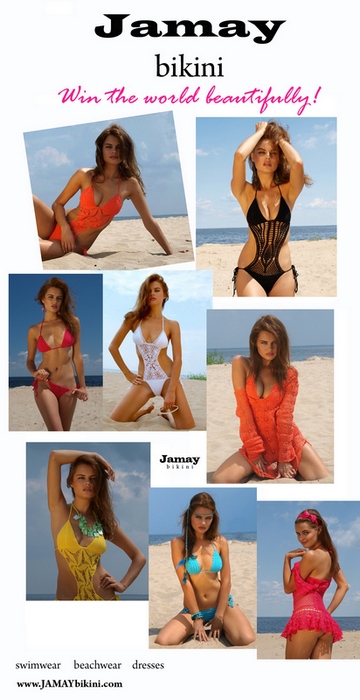 Jamay bikini is a brand name for bikinis and beachwear created for active women who like to spend quality holidays at the Mediterranean, Caribbean islands or on the islands in the Pacific Ocean. Our customers underline their personality and natural beauty.
Our philosophy is to conquer the world beautifully!
When creating our clothes, we use exclusively natural high quality materials.
Bright exclusive bikini and swimwear! The latest fashion trends, bright colors and exclusive design - all the best what is needed for summer mood!
Fashion dresses for holidays. Original lace dresses and luxurious delicate gowns. Are you getting ready to go to exotic islands? Or to a beach party or night club? Every woman dressed in Jamay bikini clothes will feel herself as a Hollywood celebrity. Dressed in exclusive gowns you will definitely attract attention of men. Be beautiful and original at the beaches of Miami, Ibiza, the Maldives or the Seychelles islands. We have a wide selection of bikinis and swimwear for your holidays and trips.
Jamay bikini.com is a site about fashion beachwear and trips where you will find lots of useful information while getting ready for your trip. We only write about countries we have visited ourselves. Let us share the travelers' experiences who have visited Europe, Africa, islands in the Indian Ocean and the Caribbean's.
Be original, beautiful and desirable! We work for you to reach this goal.