Fashion Trends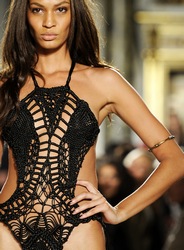 Every year there comes a time when the "angels" on the podium and bewitching us with their beauty show underwear from
And each of us wants to wear it, wishing even for a moment to be as beautiful and feel the wings behind him.
Summer - a perfect season to show all their feminine charms in a bikini from
This season will be different fashionable swimwear: separate, and piecework, and monochrome and color, and triangles, and the traditional cups.
Of course a swimsuit from does not make your ideal shape, but wearing it, you'll have even more desire to go on a diet or go to the gym.
So, choose the swimwear for the beach season, sunbathe, relax and enjoy sun, sea and myself!
2011-06-10